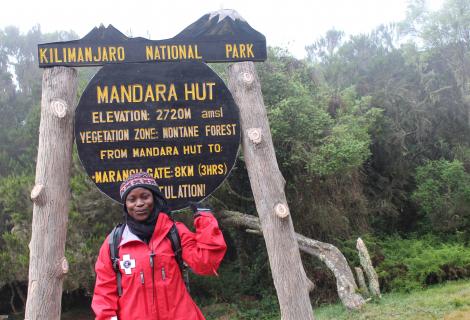 Building better futures in agriculture through ICT
Women against gender-based violence
Marie Clark is a 28-year-old single mother of one from Bopolu city in Gbarpolu County. She is a member of National Rural Women Structure (RW) in Gbarpolu County and is actively participating in the structure. The RW was established through the Ministry of Gender Children and Social Protection and is supported in part by ActionAid. The structural chapter Marie heads is focused on strengthening their capacity to challenge and reject all forms of gender-based violence, and lead advocacy campaigns at the sub-national level.
Women to Kilimanjaro
In October 2016, Marie Clark represented Liberia among thirty-two other African nations in Tanzania at the ActionAid supported and sponsored Women to Kilimanjaro: Women's Land Rights Campaign.
Along with her comrades she has, as of 2017, set a transnational campaign aimed at advocating for women's access to land so they participate in forest governance. Upon reflection of the campaign and journey Marie explained:
I saw it as an opportunity to represent Liberia as I was nominated to be an ambassador for my country. It was not an easy journey to go up and come down the mountain but seeing older women with the zeal to campaign for our land rights dearly inspired me. I felt encouraged and gained the confidence to stand and fight for women in my country.
Building better futures (BBF)
On her return from Tanzania, Marie started a Girl's Agriculture Education Initiative for girls who had been forced to drop out of school due to financial reasons. She called it Rural Women Initiative . Her initiative also became a  beneficiary of the Building Better Futures through ICT and Agriculture for Urban Youth in Liberia. The project is  funded by Turing foundation through ActionAid Nederlands. BBF invests in agriculture-driven social enterprises as a potential source of livelihood and employment for young people. By integrating ICT with marketing and the exchange of agricultural good practices it strengthens networking among young people with a view of transforming livelihoods for young people and increasing economic opportunities for them
I wanted to be involved in commercial farming where I can involve my peers especially all females who dropped out of school. The only challenge was how to start it, who can help me so I can share my vision and fullfill my dream.
The idea behind the initiative is to practice agriculture, harvest, and send the produce to the market to sell. The proceeds will be channelled towards expanding the program to try and provide access and resources to all school dropouts in the district who are members of this project.
Today Marie has about 60 young women are now engaged with Marie and producing market to sell. The proceeds are channelled towards providing resources to high school dropouts in the district. Her young women's agriculture education program was started because of the ActionAid Enhancing youth Livelihoods program. Her project is based on the tools of Information Communication Technology (ICT) for production to market.  Marie's program runs in coordination and under the support of the ActionAid established Rural Women Initiative (RWI) Accountability Forum (AF) in Gbarpolu County with the aims of promoting more co-operative group farming and sales models and skills-- in Marie's case specifically for young women.
Land rights Act in Liberia
In 2018, new government also passed a historic land rights Act recognizing community ownership and proving protections for women access' and control of land. Now more than ever, the fight for women access to land is critical and the work of Marie, the RWI, and other women will be critical in holding communities and local authorities accountable for the implementation.
Ownership and Sustainability
Despite that the project funding is ending in December, we really express our appreciation of thanks to ActionAid Liberia, ActionAid Nederlands and Turing Foundation for their countless support in building our capacity. We are now equipped with knowledge and skills, our members are really committed in our farm activities. We are certain that our farming activities will go a long way in food production in the country.
The BBF project ended in December 2018. ActionAid Liberia continues to provide technical support to Rural Women Initiative Accountability Forum all accountability forums, which were established during the implementation of Building Better Futures in Agriculture through ICT for youth in Liberia.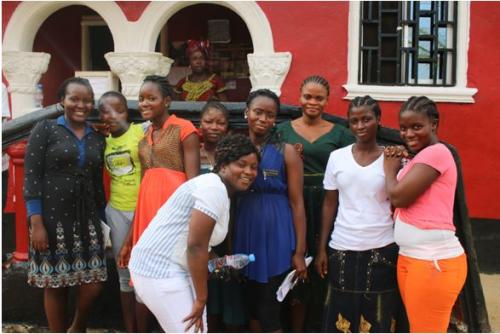 ABOUT THE AUTHOR
Khulekani Sibindi
 - is the Communications Officer for ActionAid Liberia and also serves as Secretary for Country Management Team (CMT).