SRHR AWARENESS IMPROVES GIRLS' EDUCATION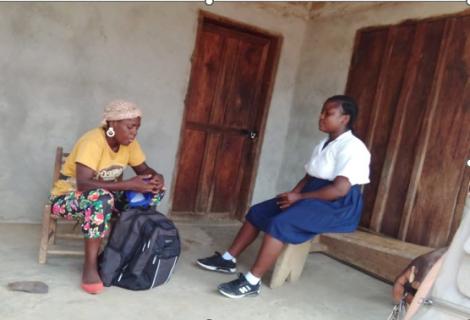 The story of Mary Dolo
"I was scared to learn about the 26 effects of Female Genital Mutilation (FGM). I made up my mind to consider formal education than to be mutilated", said Mary Dolo.
Female genital mutilation is a traditional harmful practice that affects women and girls. It is also known as female circumcision, excision or genital cutting. It comprises all procedures that involve partial or total removal of the external female genitalia or other injuries to the genital organs for non-medical reasons, mostly carried out between infancy and age 15. The procedure has no health benefits for girls and women. Because it is usually performed without permission and often against will, it violates girls' right to make imperative decisions about their sexual and reproductive health.
Mary talked to her mother about her worries when it was time for the girls in Gbarmu town to attend the traditional school. She decided to give up the Sande Bush School and participate in formal education for a better future.
Mary became aware of the harmful effects of FGM and early/forced marriage through an SRHR community awareness campaign organized by the Gbarmu Community Based Organization (One of the CBOs under the JEC project). She was inspired to join the organization to gain more knowledge and help educate other young girls about these issues.
The Ministry of Internal Affairs and Traditional Council in Liberia issued a ban on the Sande Bush School in March 2021 for three years, until March 2024. Unfortunately, it has been observed that some communities, like Gbarmu, are continuing to run the school illegally.
In 2022 Gbarmu community opened the bush school, and more girls children had to enroll. Mary told her mother that she was not interested. Her mother forced her to agree and even beat her but all was in vain. Mary sought refuge in a neighboring community and reported this to the CBO for further intervention.
After receiving education from the CBO about the three-year ban on Sande Bush School operations, Mary's mother had to abide by her daughter's decision. Mary was reunited with her parents through the intervention of the CBO. She is now in ninth grade at Gbarmu Junior Elementary School and living happily with her mother. She aspires to become a nurse and plans to graduate from university.
ActionAid Liberia supports and empowers Community-Based Organizations (CBOs) like Gbarmu CBO in Bong County within the JEC project communities. Our goal is to help these organizations become agents of change, advocating for eliminating Harmful Traditional Practices (HTPs) through capacity building and training.
ABOUT THE AUTHOR
Khulekani Sibindi
 - is the Communications Officer for ActionAid Liberia and also serves as Secretary for Country Management Team (CMT).