ELBAG TRAINING IMPROVES YOUNG PEOPLE AND WOMEN'S PARTICIPATION IN GOVERNANCE PROCESSES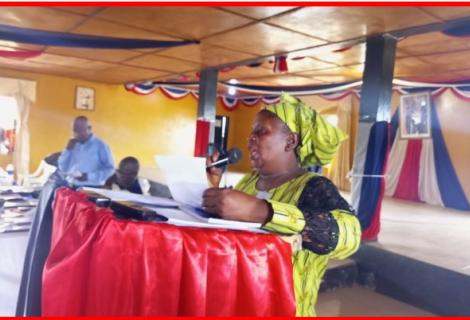 The story of Gbarpolu County's Rural Women and young people
When women and young people participate in social politics, they become more involved in societal governance and can bring about meaningful change in solving societal issues. It is crucial to understand the political system well to achieve this. As more young people and women engage in societal and political spaces, there is a definite and noteworthy rise in their equal involvement in the political arena which leads to equal distribution of public resources.
Through the Just and Equal Communities (JEC) Project, the young people and Rural Women of Gbarpolu County led by Rural Women President, Madam Bendu Jah, received training from ActionAid Liberia in Economic Literacy, Budget, Accountability and Governance (ELBAG) which is a process and methodological framework that combines: organizing people, developing grassroots, monitoring mechanisms, democratizing knowledge (particularly political economy and economics) and using participatory tools and methods for building public accountability and transparency to initiate people centered advocacy processes. The ELBAG training highlighted gender budgeting as a critical component, aligning with the JEC's overall objective to secure comprehensive access to Sexual Reproductive Health Rights for women, girls and other vulnerable groups.
"The training has helped us to understand what governance entails. We are pleased to have participated in the county budget sitting process which led to the allocations of US$20,000.00 for the safe home in Bopolu and US$5,000.00 for the Gender office to support reported cases", noted Bendu Jah.
With the knowledge gained from the ELBAG, the Rural Women of Gbarpolu County for the first time demanded full participation in the county budget crafting process. When they were given the space for the first time in the county budget siting, they suggested increased budget allocation towards safe homes in Bopolu and the Gender-based Violence (GBV) department of the Ministry of Gender, Children and Social Protection.
The training greatly enhanced the understanding of women and young people in Gbarpolu on community management, particularly in budgeting processes at various levels. It improved their technical knowledge and analytical thinking in community leadership's roles and responsibilities. They have committed to becoming people-centered community leaders. It is highly likely that with the rise in ELBAG training, the leaders of Gbarpolu County will emphasize being more sensitive toward gender-related issues. This could result in a more inclusive and equitable approach to addressing the needs and concerns of all individuals in the county, regardless of their gender identity.
Bendu and other women and young people played a crucial part in creating the County Budget, and they are currently working with county officials to improve their relationship. Rural women's structures and CBOs can rely on ActionAid Liberia for dependable technical support, which AAL is proud to provide.
---
ABOUT THE AUTHOR
Khulekani Sibindi
 - is the Communications Officer for ActionAid Liberia and also serves as Secretary for Country Management Team (CMT).