DOMAFEIGN AND NATPAH KICK OFF CAMPAIGN TO ENSURE SEXUAL REPRODUCTIVE HEALTH RIGHTS (SRHR) AWARENESS AMONG YOUNG PEOPLE THROUGH SPORTS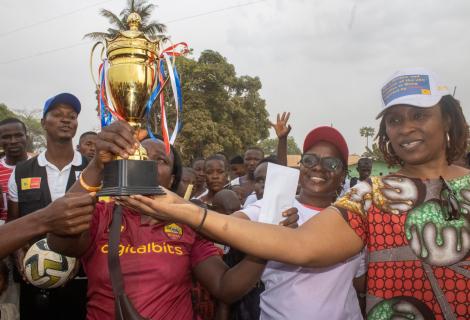 The story of Domafeign and Natpah
In October 2022, Domafeign and NATPAH (Implementing Partners of ActionAid Liberia), with funding from SIDA through the embassy of Sweden, organized an awareness campaign on Sexual Reproductive Health Rights (SRHR) using sports. The same event took place in Bong County ahead of the International Day of Zero Tolerance for Female Genital Mutilation. The two-day event featured soccer and kickball as the sports of choice, as these are popular among Liberians.
Soccer, in particular, has a global appeal and unites people worldwide. Soccer has played a significant role in changing different parts of the world. For instance, the Algerian football team was founded in 1958 as part of the National Liberation Front (FLN) army that fought for Algeria's independence from France. Similarly, soccer played a crucial role in uniting South Africans and promoting forgiveness and reconciliation after apartheid.
In Liberia, soccer is a popular sport that brings together young people from different communities. To reach out to many young people cost-effectively, Domafeign and NATPAH organized a two-day sports tournament under the "Just and Equal Communities (JEC)" project. The game aimed to raise awareness about SRHR information and services and to flag harmful traditional practices like female genital mutilation and child marriage that continue to affect the reproductive health of women and girls.
The tournament attracted over 1,000 women and girls, as well as men, who joined the call to end harmful traditional practices through marching in and around Gbarma District. Messages that condemned HTPs, were displayed through posters and banners. Community leaders' involvement and presence helped to increase attendance, and the event received widespread support from both counties of Bong and Gbarpolu.
Boima Coleman, Domafeign's Chief Executive Officer, expressed his commitment to using sports as a means of raising awareness about SRHR and ending SGBV. He noted that with adequate resources, they would hold more tournaments to reach different target groups. Furthermore, Josephine Poole, the President of the Gbarma Community-Based Organization under the Just and Equal project was impressed about the gathering and emphasized the need to converse with their peers in the language they understand to positively impact behavior change, and Beatrice Nagbe NATPAH Director noted that the tournament was very necessary as it brought the entire community people together and join the awareness campaign.
ActionAid Liberia's support of local structures has been crucial in helping Domafeign and NATPAH reach their goals. ActionAid Liberia is known for its unwavering stance on women's rights and gender equality, and its efforts have received government and community recognition. With continued support from partners like the Embassy of Sweden in Monrovia, ActionAid Liberia will provide adequate assistance to CBOs like Zai's town CBO organization to reach even more people and help them realize their potential.
ABOUT THE AUTHOR
Khulekani Sibindi
 - is the Communications Officer for ActionAid Liberia and also serves as Secretary for Country Management Team (CMT).