Youth on the Frontlines of the Climate Justice Struggle - The Story of Carlos Napoleone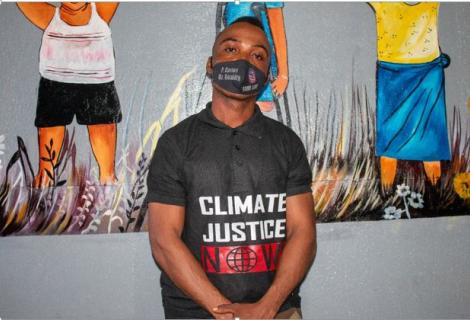 "From the barracks to the community: Using music to raise awareness on climate justice" –
Young people also constitute those that are members of the staff in the uniformed forces. These are often ignored when most young people's activities are addressed, yet it is very crucial for them to get empowered and be able to participate, contribute and make a healthy life decisions in the communities that they live in. Global platform Liberia (GPL) does not have either boarders or it chooses its beneficiaries. GPL uses a feminist lens, therefore, allowing all with the interest to contribute to making a change, be able to participate in the space.
 Carlos Napoleon is a young man aged 32. He is a soldier by profession and a full member of the Armed Forces of Liberia with the rank of Military Police Sergeant. Carlos is also a musician with a stage name "Mr. Reality." After attending one of the movement-building trainings, he joined GP Liberia in January 2021 as a volunteer. His interest in climate justice issues has seen him composing and releasing songs focusing on climate justice actions and advocacy to ensure government and stakeholders take the necessary steps to address the adverse impact of climate change particularly on young people's employment opportunities as well as livelihoods. In the army barrack where he is based, Carlos also engaged young soldiers to support climate actions by the military which now includes beach cleaning and public awareness in coastal communities of Monrovia. Carlos attended several GPL training that built his capacity in climate justice advocacy and he is using his military and music fame to influence young people to take climate actions seriously. He is currently one of the 2021 – 2022 Global Platform Climate Justice Ambassadors in the music category. He has so far released three songs that focus on climate justice.
Although he was passionate about environmental justice and climate change issues, Carlos had not managed to get an opportunity to learn about it. His opportunity came when he followed one of the live webinars hosted by GP Liberia where the focus was on mobilizing and coalescing young people's efforts to combat climate change impacts.
"My understanding of climate change was limited and I could not confidently talk about with colleagues as I thought it was just for those that were into sciences. When I joined a live webinar hosted by GP Liberia, I started to connect the dots and link my environmental justice campaign work to climate justice. I want to thank ActionAid Liberia for further inviting me to attend more trainings which broadened my understanding of climate justice and gave me the reason for taking action as a young person."
With his newly acquired information and understanding of climate justice, Carlos started mobilizing and engaging with his commanders to be given permission to carry out awareness in the barracks and Monrovia communities. With his already established music brand, Carlos started composing climate justice tracks which became an instant hit on the community radio airwaves. With his background and occupation, Carlos represents a constituency of young people that the project had not previously thought of targeting.   
"To be part of GP Liberia was such a privilege as it has really sharpened my skills in climate and environmental justice activism," says Carlos.
Back in the barrack, Carlos heads a 20-member youth forum composed of young military personnel that is involved in environmental campaigning and community outreaches on climate justice. AAL in collaboration with GP Liberia will continue to engage young people across different sectors and backgrounds to ensure that there is a mass movement of young people demanding climate justice and taking their own climate actions at the community level. G P Liberia is a training hub for all young people under the age of 35 that enables them to challenge social issues/problems and come up with solutions including co-creation. The platform also builds the capacity of young people, their organizations, movements, and networks to influence the social justice agenda.
ABOUT THE AUTHOR
Khulekani Sibindi
 - is the Communications Officer for ActionAid Liberia and also serves as Secretary for Country Management Team (CMT).