Traditional leaders pledge their support for women land rights in River Gee County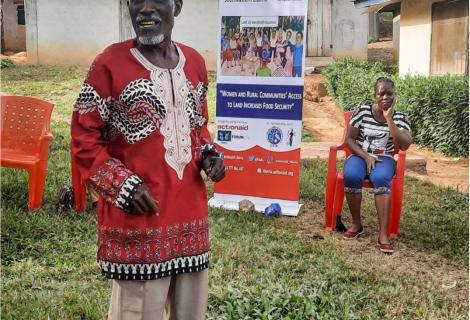 The case of Chief James Pah Sayee, River Gee Paramount Chief
Land rights have been a topical issue for many years. The land is a priced possession in Liberia. It gives identity and is also linked to livelihoods. However for centuries, land in Liberia has been in the hands of men and traditional leaders including clan and cultural leaders have had the privilege to own and control the use of all land in rural communities. There was limited space for women and youth land ownership and control. Due to cultural and traditional norms that are primarily patriarchal, women's position on land has largely been peripheral, serving only as laborers for food crop production. In River Gee County like many other areas in Liberia, land could only be owned by men and boys would inherit the land from their fathers at appropriate ages. Thus land ownership patterns were largely biased towards men which gave them the power to make decisions that were to a larger extent less gender responsive. It was also unimaginable to consider support for women's rights from traditional leaders, especially paramount chiefs viewed as the custodians of culture and tradition in Liberia. 
 
The coming in of the EU co-funded women and communities land rights project in River Gee provided an opportunity for AAL and partners DEN-L and ForumCiv to raise awareness and engage with traditional and cultural leaders on women's land rights as well as a gauge for their continued support. Despite the numerous efforts from other CSOs, getting support from traditional leaders like paramount chiefs had always been difficult.
The turning point in the project engagement came when the traditional leaders in River Gee began to endorse the objectives of the project being implemented by AAL and partners. One such leader to endorse the project interventions is 71 years old Paramount Chief for River Gee, Honorable James Pah Sayee who expressed his unequivocal support for women's land rights in the county. James Pah Sayee not only supported women's land rights in words but took the first practical steps by allocating his three wives and daughter some pieces of land which he said belonged to them. He believes that while tradition and culture give the traditional leaders control over land, there was nothing wrong in giving women land and allowing them to control it.
Land gives us our identity and we survive from our land. I support women's land rights and have demonstrated that by sharing my own wives and daughter some land to utilize. I believe that if we give them land and allow them to control it, they can use it to improve productivity and help with food security. We all grew up eating food that our mothers were producing on the land. I, therefore, urge all men in my county to take steps and give land to women so that River Gee becomes secure. Our culture demands us to respect their rights and giving them the land is empowering the whole community, Chief Sayee
James Pah Sayee is one of the many traditional leaders who benefitted from AAL's women's rights and women's land rights training in the three project counties (Sinoe, Grand Gedeh, and River Gee). He encourages AAL and partners to continue working with the traditional and cultural leaders to ensure that they all support the noble objectives of the project. He noted that though the process could take long, culture changes and embraces any positive changes, and therefore continuous engagement must be done. Through the training and awareness-raising sessions at the community level, communities now have improved their understanding of women's rights including women's land rights. The project created awareness in 30 communities across River Gee, Sinoe, and Grand Gedeh where men have started to include women in all meetings pertaining to land issues. In the first year of the project, AAL and the two implementing partners, DEN-L and ForumCiv managed to use different platforms to raise awareness of women's land rights. 
Unlike in the past, today, Chief Sayee is leading efforts in communities in River Gee County in sensitizing most men on the benefits of having a woman gain access to land ownership, something he believes benefits the larger community. He and other men, including women are among individuals captured under the project, in understanding the inheritance law, the Land Rights Act (LRA). The traditional chief urged other men not to deny their wives and girl children land, as he said, it is his duty to grant his girl children access to land ownership, as he would equally do for his male counterparts.
About the project
AAL, DEN-L, and ForumCiv are implementing a three-year project on women and communities' land rights in Southeast Liberia. The project aims to increase access to land rights for women and young people; strengthen community engagement in decision-making on land use; and equip CSOs to provide sustainable advocacy for land sector reforms in Liberia. This will be done through strengthening Civil Society and Community Based Organizations, women and youth networks, community leaders, and members of community structures such as CLDMCs and increasing accountability from duty bearers. The project will also provide legal aid to women and communities to claim and defend their land rights; resources to support communities to undertake or complete their Community Self Identification Process and technical support to smallholder farmers in project communities.