Covid-19 and Women in business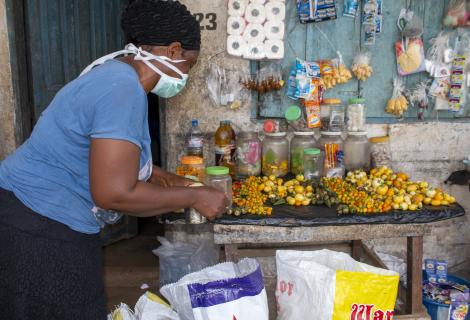 Women livelihoods Hawa Kangor, 47 years
Women empowerment has proved to be the best tool to give to all women living in difficult situations. With basic business skills and saving schemes, women are able to feed and fend for their families on daily basis. In every successful life event, there is always a bad side to the story. Amidst the Covid-19 crisis that affected most women in economic activities, Hawa Kangor, aged 47 managed to use the situation to grow her business and supported her family.
Married with four children, two are going to school and two have graduated from high school, and are waiting to enroll at the university, Hawa is the current women's forum chairperson of Low-Cost village in Bentol City. She successfully runs a Tuck shop in front of her house where she sells goods in small packages, that the community dwellers are in need of.
"Before ActionAid could come into our community, I used to wake up in the morning and do my house chores, thereafter sit all day long waiting for my husband to bring the hustle on the table so I can start cooking for the family. My husband and I used to quarrel most of the times especial the days where the hustle would have brought no income at all. He used to call me names. It was a difficult practice to do, at the time and I had no better option, until ActionAid Liberia brought to us enhanced protection from Sexual and Gender based Violence for women, girls and sexual minorities in Liberia project. This is when I realized my life potential. I grabbed the concept, worked on it and today I am now enjoying doing my own business." said Hawa. 
Capacity Building
ActionAid Liberia (AAL) and Community Health-care Initiative (CHI) conducted capacity-building training on Basic business Management, Saving Money through Village Saving Loan. Human and women's rights, gender equity and equality, Sexual and Gender-based Violence, Case management and follow-up, Referral pathway among others. The training boosted the confidence of women, which gradually started to shape their day-to-day lifestyles.
    Attending training offered by ActionAid Liberia brought a drastic change in my life. I am grateful to be part of the Low-Cost Village women's forum. All the names that my husband used to call me with, have been replaced by only one word *Honey*, He now calls me honey. Each time I wear smart even without the intention to go anywhere, my husband asks what workshop am I attending" noted Hawa.
Access to Education
Hawa has managed to pay school fees for her four children through the sales and profit from the tuckshop. Two of her children (first and second born) have graduated from high school and are looking forward to enrolling at the university. The other two are still in primary and high school.
  "I am proud of ActionAid's EPS project, they gave me a platform and built my knowledge this far, and my children are happily attending school. Unlike before, my family now eats every day and we now have a variety of food to choose from", noted Hawa.
Fighting SGBV
Hawa and the 30 women continue to champion SGBV issues in their community with the hope to have  ZERO SGBV violence in Low-cost village. Despite the project ending, the 30 women are positive that in the near future, cases of violence in Low-Cost Village will be eradicated. They envisage seeing a just and peaceful community. 
ActionAid Liberia continues to provide technical support to the all-women forums under the EPS project.