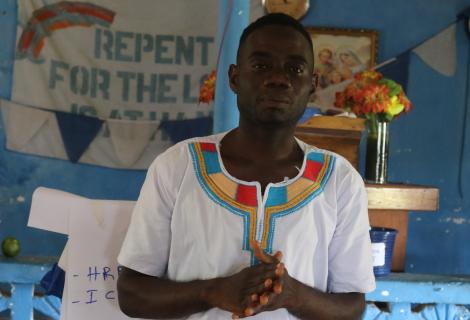 Building better futures in agriculture through ICT
Khalifala Kromah, 30, lives in Chocolate City, Montserrado County. He is currently in his second year at United Methodist Episcopal Zion University in Monrovia, where he is studying Public Administration and Criminal Justice. From a family of five children, Khalifa is currently living on his own, and is not yet married. His path through education has been a difficult one, as it has been for many Liberians.
Using hardships for a better future
Due to economic hardship, he was unable to start school until he was around eight years old. However, he was forced to halt his education after only three years, when his family fled Liberia due to the civil war. As a refugee in Guinea, Khalifala was unable to continue his education, and could not resume schooling until his family returned to Liberia ten years later. When his family returned to Liberia, they had no prospects for income, and so to help Khalifala continue his education, one of his uncles supported him by paying his school fees. Now a university student, Khalifala's upbringing and experiences continue to inspire and inform his active engagement in education, agriculture, and politics.
In addition to his participation in ActionAid's Building Better Futures program, Khalifala also works part time during school vacation periods, organizing enrichment program for students with special needs at his local high schools, as well as recreational programs for youth in the area.
From politics to agriculture
Through ActionAid's BBF program, Khalifala became a member of the COME Liberia Accountability Forum under the second Sustainable Social Enterprise in Montserrado County, but he was originally involved in politics as a member of a political Youth Wing before turning to agriculture.
I decided to leave politics, make a change, and focus on agriculture after I participated in a training workshop on agriculture, governance, and leadership conducted by ActionAid Liberia. I was really inspired by the fact that we all needed to eat food that is produced here in Liberia by a few individuals. I made a decision to be counted as one of the Liberian food suppliers.  Ever since then, I have not looked back to politics.
While he has left behind politics as a career path, he continues to engage in the political actions and activism of the BBF program. Khalifa has participated in advocacy and awareness events supported by ActionAid, such as International Youth Day and International Women's Day celebrations, in addition to attending an EU event on preventing Sexual and Gender-Based Violence as a representative of his SSE.
Mentorship and ICT training
Khalifa has continued to benefit from a variety of ActionAid trainings, including a youth mentorship and peer support program that sought to cultivate young people's interest in farming in October 2017 at Stella Marie's Farm in Bomi County, as well as a training held from 11-15 December 2017 on exchange of information, online or sms based support on agri-business skills, SMS-based mentoring and extension services, and mobile bank transactions.
Through the trainings I have attended, I have gained an understanding that agriculture is a basic need for eradicating poverty.
Using the SMS and online platform skills learned in ActionAid's training, Khalifala has greatly increased his access to a network of customers for his farms. He and his fellow farmers use ActionAid's recently launched Youth ICT and Agriculture Hub, as well as their Facebook profiles and group accounts to notify their customers on what is in stock.  Customers are happy to buy fresh, affordable, and healthy food at competitive prices (often higher quantities for lower prices than conventional methods of farming produce) without having to guess what will be available on market days.
The launching of the hub serves as a working tool for me, as I now have less stress about locating buyers. I have managed to establish a group of my customers through Facebook, and this has increased the demand for my produce. We are working as a group and we love it.
Phone theft
Although the use of smartphones is an added advantage and helps increase access to agriculture markets, all social enterprises face challenges in keeping their phones safe. Phone theft is a major issue in urban areas of Liberia, especially Monrovia. In addition to the phone provided to each SSE by ActionAid, many members of SSEs also contribute through using their personal phones to help document progress or communicate with customers. However, this can be problematic when a phone is stolen, as reported by  Khalifala.
We also use phones to build our capacity in studying how crops should be cared for. In the absence of smartphones, our farming activities are dearly disturbed,.
Not giving up
While he may not always be lucky, Khalifala is always finding ways to push through challenges and support himself and those around him. As a natural activist and spokesman, He has risen to a leadership position in sub-group of fifteen young farmers, six women and nine men, within the COME Accountability Forum. Together, they began group farming on one garden, and have been so successful that the demand for their produce has led them to acquire more land, now operating four gardens total. Each garden is approximately 2152 square meters (about half an acre). The group employs rotational farming methods and grows a wide variety of crops, including bitterball, cucumbers, okra, eggplant, corn, cassava, potatoes, and onions. From their most recent corn harvest in June 2018, the group made a profit of 5000 Liberian Dollars (30 EUR). With 1100 Liberian Dollars (7 EUR), they purchased new seedlings for the next planting, saving the remaining 3900 Liberian Dollars (23 EUR) for future use.
ActionAid continues to offer refresher courses to support the technical growth of each SSE. As a former political activist, Khalifala has great potential to advocate as a speaker on behalf of youth and for agricultural rights, with the help of ActionAid training in public speaking and leadership. Additionally, the potential to expand food production has been noted as a method for growth and increased employment opportunities, which could greatly benefit Khalifa as he employs his newly learned skills in best agricultural practices, navigation of digital spaces, and entrepreneurship.
ABOUT THE AUTHOR
Khulekani Sibindi
 - is the Communications Officer for ActionAid Liberia and also serves as Secretary for Country Management Team (CMT).