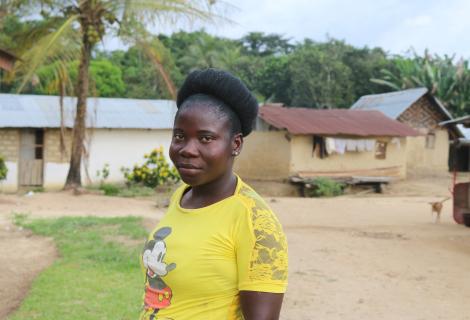 Building better futures in agriculture through ICT
Fatu Momo, 29 years of age from Farwenta, a single mother of 3 children is the member of Farwenta Accountability Forum. She is a student and is doing grade 10 with the hope to graduate her high school studies in two years' time.  She joined the AF early in 2018 through the encouragement from Kpannah Dorley. Since then, she has been a committed member since then. Her duty in the Accountability Forum (AF) is to sell on the market day. She also participates in the weekly farm work.
Advantages of Group Farming
Before joining the AF, Ms. Momo was doing farming on her own with adequate food to feed her children. Challenges of individual farming ranging to limited manpower, lack of farming ideas and other related issues were always overshadowing the solutions to these issues. Upon joining the AF, Fatu has had chances of interacting with more members in the AF who have shared ideas and plans to improve on farming business.  Her approach to agriculture has drastically changed. She has friends who usually assist her in her farm in case of extra hands needed. Before then, she used to pay people to do the work (farm work range from brushing and clearing the farm, weeding and harvesting). 
Group farming has contributed positively in my life. I used to get worried on the expenditure to pay people who used to help me in the farm, since I joined the AF, I have found new brothers and sister who have assisted dearly with ideas and workforce on my farm without having to spend money.
Her weekly sells increased since then. Before she used to makeLD$2,000 every week, ever since she joined the AF, her sells have increased too, while her expenditures have decreased.
Protection from SGBV
Before the project, it was normal that women take their farm produce to the markets early morning of every Saturday. They had to hire motorbikes in the absence of motorbikes or money to hire motorbikes; they will walk for at least 5km through the bushes to the market.  Based on this culture, bad men and boys used to take advantage of the darkness and the bush therefore sexually harassing women, sometimes rape them.
 Since YICT project inception and through awareness raising, male members in Farwenta AF have shown signs of understanding SGBV issues and the importance of protection women and girls from SGBVs, they work up early in the morning to take the produce and female members and non-members to the market. Mainly they do this to prevent violence against women and girls.
,
Human rights and Capacity Building
The forum has a lot of activities ranging from business skills, to advocacy and capacity building. The Human Rights Based Approach has made understanding of Human rights easier for Fatu.  She has participated in capacity building trainings conducted by AAL and other stakeholders. Sometimes the AF gets invited to other trainings happening in the County. This has given Fatu learning space to know more in life including her rights as a woman.
The BBF funding  ended in December 2018, ActionAid Liberia, continues to support the AF and GSSE, technically, it continues to build individual and group capacities.
ABOUT THE AUTHOR
Khulekani Sibindi
 - is the Communications Officer for ActionAid Liberia and also serves as Secretary for Country Management Team (CMT).