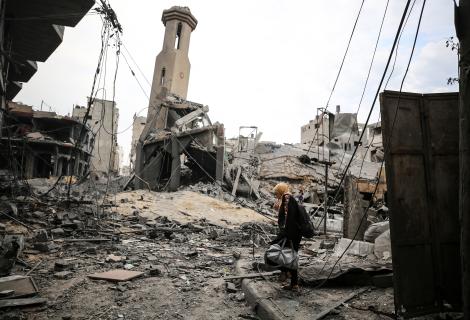 Seven hospitals running out of lifesaving fuel as "shameful" level of aid reaches Gaza.
21 October 2023 
Seven hospitals running out of lifesaving fuel as "shameful" level of aid reaches Gaza 
As 20 aid trucks crossed the Rafah border this morning, seven hospitals across Gaza were at a breaking point as incubators and life support machines ran out of fuel. 
Riham Jafari, Advocacy and Communications Coordinator at ActionAid Palestine said: "We welcome any aid right now, but the level of aid being delivered into Gaza is a shameful insult to the millions of Gazans facing a humanitarian catastrophe. Before this crisis began, around 500 aid trucks would normally cross the border daily, providing a vital lifeline to millions of Gazans already facing a humanitarian crisis." 
 
She added: "Aid trucks also did not bring the fuel needed to power hospitals, keep ambulances moving, or pump water from the ground. We're hearing stories every day of communities coming together to donate whatever fuel they have remaining to keep incubators going for newborns who are in a critical condition." 
Bakeries, a vital lifeline for millions of Gazans, are also running out of the fuel needed to make bread. 
This morning's news comes as Al-Quds Hospital, one of the biggest in Gaza, has been issued with evacuation orders from the Israeli government. The Palestinian Red Crescent has said that the hospital serves 400 patients and shelters around 12,000 displaced people and dozens of others across Gaza. 
"Given the loss of life and destruction of Al-Ahli hospital the other night, it's unconscionable that over 20 hospitals across Gaza are facing evacuation orders – a complete violation of International Humanitarian Law."  
"The failure to deliver aid is costing lives by the minute and by the hour.  With 2.2 million Gazans facing a humanitarian crisis, we urgently call for a ceasefire and the opening of humanitarian corridors. And while the focus has been on the Rafah border crossing, we are imploring the Israeli authorities to allow aid to flow through the Kerem Shalom checkpoint and other crossings from Israel.  Only then can aid flow freely into Gaza and keep hospitals running." 
ENDS 
Contact the ActionAid press office at uk.media@actionaid.org or on 07753 973 486.  
About ActionAid    
ActionAid is a global federation working with more than 41 million people living in more than 71 of the world's poorest countries. We want to see a just, fair, and sustainable world, in which everybody enjoys the right to a life of dignity and freedom from poverty and oppression. We work to achieve social justice and gender equality and to eradicate poverty.