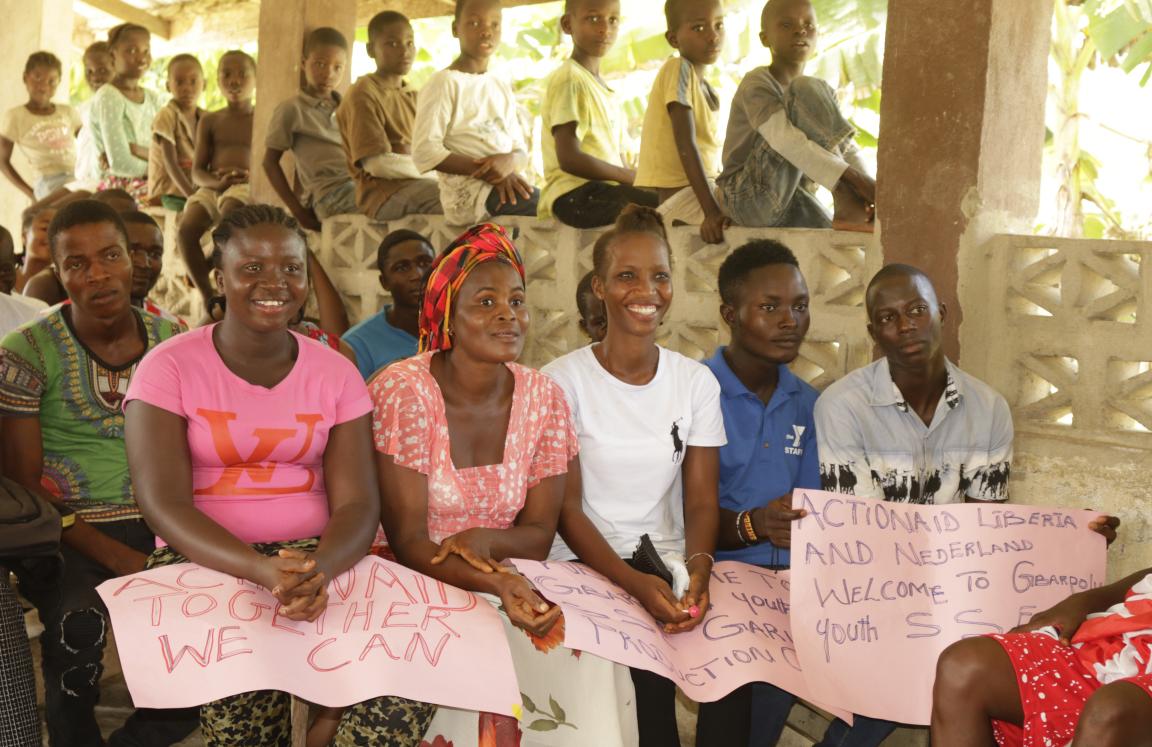 About us
Country profile: ActionAid Liberia
Who we are
ActionAid Liberia (AAL) has been operating in Liberia since 1997, as a registered non-governmental organization. Over the last decade, ActionAid has built a recognized niche for addressing inequalities of power with people living in poverty with specific focus on women's rights and application of human rights based approach and feminist analysis to development in Liberia.
AAL works in six of the 15 counties with over 100 communities on women's rights, sexual and reproductive health rights; access to justice, gender responsive public services and civic participation.
Liberia is a West African country bordered by Guinea, Ivory Coast, Sierra Leone and the Atlantic Ocean. Monrovia is the capital city of Liberia. The population is estimated at 4.98 million. This compares to the 2008 population of 3.47 million. 
Liberia is a low-income country that relies heavily on foreign assistance and remittances from the diaspora.
In 2017, the country faced multiple transitions, including the withdrawal of the UN Peace Keeping Mission and 2017 Presidential Elections, representing major turning points in the country's post-war recovery and reconstruction. The new government has developed its national development agenda, Pro-Poor Agenda for Prosperity and Development, which outlines four pillars including Power to the People, Economy, and Jobs, Sustaining the Peace, and Governance and Transparency.
Vision and Mission
We envision a  just, equitable and sustainable world in which every person enjoys the right to a life of dignity, freedom from poverty and all forms of oppression.
We  work to achieve social justice, gender equality, and poverty eradication by working with people living in poverty and exclusion, their communities, people's organizations, activists, social movements and supporters.
Country Strategic Paper  Priorities (2018—2022)
Enhance protection of women, girls and marginalized groups and secure economic justice
 Democratic governance for improved gender responsive public services
Sustainable Natural Resource Governance, Management and Use
Women Led Humanitarian Response
Staffing
 AAL has total number of  27 comprising of 11 females and 16 males
Senior Management Team Members
Lakshmi Moore—Country Director
Patience Landford—Head of Programs and Policy
Slwero Pyne  - Fundraising and Compliance Manager
Aisha Kolubah—Women's Rights Manager
Johnson Kumeh—Child Sponsorship Manager
Johnette Horace  - Human Resources Manger
Our partners
Our partners include diverse groups of women, young people and civil society organizations and key line ministries (Gender, Children and Social Protection; Internal Affairs, Justice, Education, Health and Youth and Sports) and State Agencies (Independent National Human Rights Commission, Forest Development Agency and Liberia Land Authority).